Every Friday and Saturday – at 7:03pm (approx.)… A unique Sydney experience for adults – but not necessarily grown-ups (ages 12 +). Champagne and canapés – followed by sophisticated magic and storytelling.
Price is $110 per person and includes champagne and canapés on arrival. BOOKINGS ESSENTIAL
Bruce Glen, The Gentleman Magician was inspired to create his Magical Soirées by Jean-Eugène Robert-Houdin (the Father of Modern Conjuring), Max Malini, Johann Hofzinser and Steve Cohen.
Parisians in the 1800s flocked to see Robert-Houdin's 'Soirées Fantastiques' at his Palais Royal. In the early 20th century, Malini performed for Presidents and Kings and was the talk of European society.
Hofzinser (acknowledged as the Father of Card Magic), also moved amongst the aristocracy and performed his own style of parlour magic in his Vienna salon. And New York's Steve Cohen continues the tradition with his 'Chamber Magic': a fixture at the Waldorf Towers since 2001.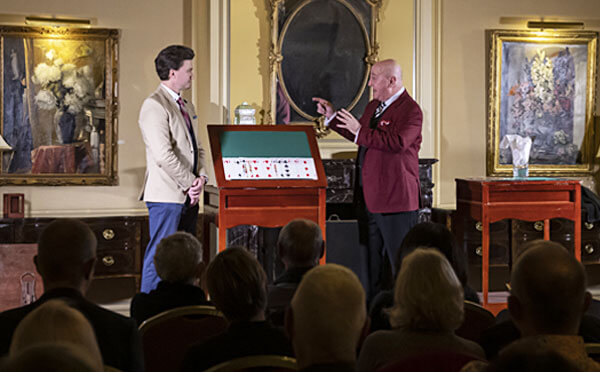 After two years of weekly shows at The Royal Automobile Club of Australia, Bruce Glen was invited to bring his 5 star show to the 5 star "Sir Stamford at Circular Quay".
Built in 1896 and lovingly restored and maintained, the Sir Stamford is one of Sydney's most beautiful heritage-listed buildings.
Regularly awarded for its outstanding service and facilities, the hotel features 18th Century Louis XV and Georgian antiques, and houses one of Australia's largest private collections of fine art.
The Gentleman Magician's Magical Soirée will live long in the memory. Although there is no profanity, Magical Soirées are best appreciated by a mature audience (ages 12+).